I have a delicious dish Vegetarian dish FULL of protein, fiber & GOOD fat that you can have for any meal of the day. I really love making dishes like these because you can literally use ANY veggies that you have in your fridge to make this dish. The best part is….even my carnivorous boyfriend LOVED this dish. It is full of flavor & full of nutrients.
Step 1: Pre-heat your oven to 350 degrees Fahrenheit (180 degrees Celsius)
Step 2: Slice & dice any veggies you wish to use for this dish. I used 1/2 large zucchini spears, 1 clove garlic, 3 small tomatoes, 6 whole small mushrooms, 1/2 cup chopped egg plant, fresh chives, basil & black pepper to taste. Put all these veggies into a baking dish.
Step 3: Drizzle with  2 tbsp avocado oil (you can also use olive oil)
Step 4: Bake in the oven for 15-20 minutes (until veggies are soft enough for your liking)
Step 5: Add 4 egg whites to the pan & bake for another 7-10 minutes. Feel free to use whole eggs if you wish. I usually limit myself to 2-3 whole eggs per day and had already reached my limit by the time I made this dish for dinner. Do as you please my vegetarian friends 🙂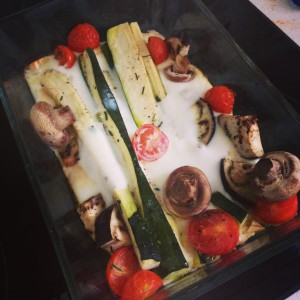 Step 6: EAT UP! Serve on a dish with some salsa and you have yourself a delicious, nutritious, vegetarian meal that even meat-eaters will love.