If you follow me on Instagram, you know that I came up on this mega huge bag of Swiss chard at the farmer's market last weekend! I was so excited so I bought a lot. But, when I got home I was like….ummmm whoa that's a whole lotta chard. So, I decided to get creative and use it as many ways as I could this passed week. I am vegan, so that's why all of these recipes do not have meat. However, you could very easily add meat to any and all of these dishes.
I had so much fun figuring out ways to use Swiss chard! Not only are these recipes absolutely delicious, but the many benefits of Swiss chard makes them so much more exciting to eat. Like spinach, it is high in phytonutrients, vitamins, minerals, fiber and much more!
So, here it is: 6 Ways To Use Swiss Chard
1. Butternut Squash Soup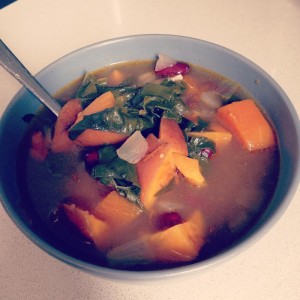 Ingredients
1/2 cup raw diced sweet potato
1/2 cup diced raw butternut squash
1 cup chopped Swiss chard
1 can kidney beans
1 medium white onion chopped
3 cloves of minced garlic
2 Tbsp avocado oil (or olive oil)
6 cups water
salt & pepper to taste
1. Heat 1 Tbsp oil in a soup pot. Saute garlic & onion in pot for 3-4 minutes
2. Add all remaining ingredients (including 2nd Tbsp of oil), cover & cook on low. The longer you let it cook, the more the flavors come together. I let this one sit for 1 hour.
2. "Everything" Salad
Ingredients
2 cups romaine lettuce
1 cup Swiss chard
1/2 cup cooked quinoa
All veggies I had left in my fridge (tomatoes, bell pepper, mushrooms)
1 Tbsp avocado oil + balsamic
fresh ground pepper
1. Mix all ingredients together. Top with oil & balsamic & eat!
3. Stir Fry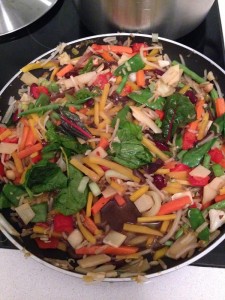 Ingredients
1 bag of frozen vegetables "Wok Mix"
1/2 cup chopped Swiss chard
2 Tbsp low-sodium soy sauce
1/2 can kidney beans
1 Tbsp avocado oil (or olive oil)
1. Saute veggies in 1 Tbsp oil until warm. Add beans, Swiss chard & low-sodium soy sauce at the end and cook for additional 3-5 minutes.
4. Vegan Alfredo Zucchini Pasta
Ingredients
1/2 head of cauliflower
1/2 can garbanzo beans
1/2 can white beans
1 cup rice milk
1 clove garlic minced
1 medium zucchini
1/4 cup sun dried tomatoes
1 cup chopped Swiss Chard
1 Tbsp avocado oil (or olive oil)
salt & pepper to taste
1. Steam or bake cauliflower until soft. Add cooked cauliflower, beans, rice milk, garlic and spices to a food processor or blender. Blend thoroughly until it because the consistency of sauce.
2. Peal zucchini into small strands (pasta substitute) and saute in a pan with oil & Swiss chard until the zucchini is soft.
3. Add the sauce to the pan and heat it up all together.
4. Add sun dried tomatoes and serve!
5. Stuffed Sweet Potatoes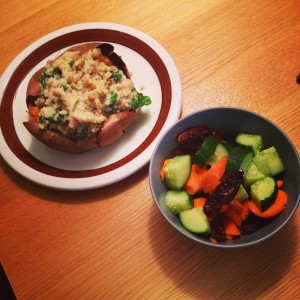 Ingredients
1/4 c cooked quinoa
1/4 c cooked lentils
1/2 cup chopped Swiss chard
2 Tbsp "Alfredo" sauce (from above recipe)
1 medium sweet potato
salt & pepper to taste
1. Bake sweet potato. 425 degrees for 25-45 minutes (depending on size of the potato)
2. Mix remaining ingredients in a bowl.
3. When the sweet potato is done, cut it open and stuff the mix inside. Put it back in the oven and bake until warm.
**The salad on the side is just carrots, cucumber, sun dried tomatoes & balsamic vinegar.**
6. Green Berry Smoothie
Ingredients
1 cup rice milk
1 Tbsp rice protein
1/2 cup chopped raw spinach
1/2 cup chopped Swiss chard
1/2 cup diced beats
1/2 cup frozen strawberries
1/2 medium banana
1. Put all ingredients in a blender. Blend & enjoy!
♥Do you have ways to use Swiss chard that you want to share?? Leave them in the comments below! Thanks for reading and make sure you come back to LifeLikeLunden.com for more great recipes and workouts.♥