Slim & Sassy essential oil blend from doTERRA (aka Smart & Sassy in many countries). I love using this oil aromatically, topically and internally for its metabolism boosting properties and its uplifting and energizing aroma. It just smells like, "I am alive & ready to rock today!"
In this posting, you will learn which oils are inside the Slim & Sassy blend, what are their benefits and my favorite ways to use Slim & Sassy on a daily basis.
What essential oils are inside the Slim & Sassy blend?
Grapefruit Peel
Lemon Peel
Peppermint Plant
Ginger Root
Cinnamon Bark
Grapefruit Peel
supports the metabolism
reduces the appearance of blemishes
boosts mood
Lemon Peel
cleanses and purifies the air
cleanses and purifies surfaces
naturally cleanses and detoxifies the body
supports healthy respiratory function
improves mood 🙂
Peppermint Plant
supports healthy respiratory function
boosts energy
aids digestion
repels bugs naturally
ongoing head & neck tension
reduces cravings
Ginger Root
supports healthy digestion
reduces bloating, gas & indigestion
nausea, upset stomach
Cinnamon Bark
boost metabolism & promotes healthy metabolic function
aids in blood sugar stabilization
repels insects naturally
helps maintain healthy immune system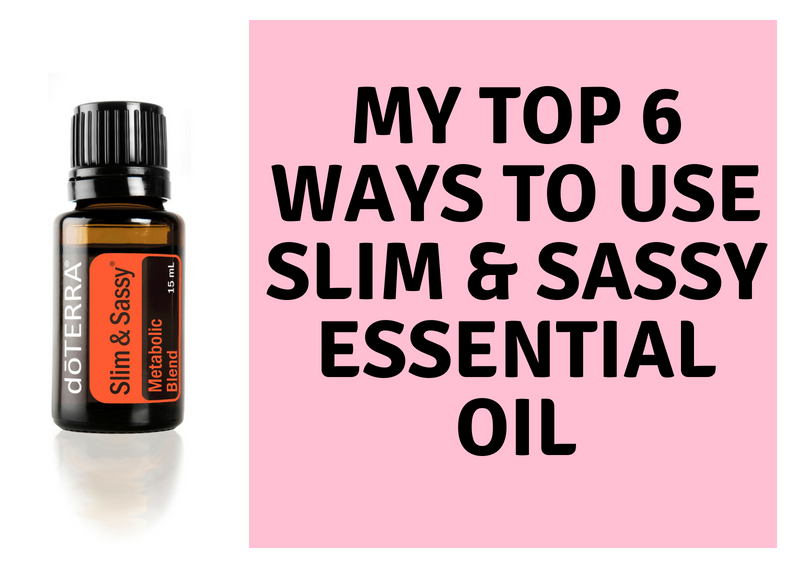 My 6 Favorite Ways to Use doTERRA's Slim & Sassy
In my water: I fill up a big pitcher of water every morning and add 2-3 drops of Slim & Sassy, 2-3 drops Lemon essential oil and 1 drop On Guard essential oil. I drink this first thing in the morning right when I wake up to hydrate my cells, boost my metabolism and aid in detoxification. Additionally, I put some Slim & Sassy in my water that I use for my workout and to give me yet another refreshing boost.
To reduce cravings: A drop or 2 of Slim & Sassy under the tongue and you can kiss those 'tween-meal cravings goodbye! There is even Slim & Sassy gum available in some countries. But even with the oil right in your office or home office drawer and even in your bag on the regular can help combat against snacking that comes from boredom and stress.
In my DIY Coffee Scrub for Cellulite: I love making DIY personal care products because I am all about getting the toxins out and natural solutions IN! This DIY cellulite coffee scrub is extremely revitalizing, rejuvenating, hydrating and boost circulation. I use this scrub AT LEAST once per week if not more.
One drop in my hands, cup over nose and INHALE: This is my perfect pick-me-up after lunch instead of reaching for that 3rd or 4th cup of a coffee or an extra bite of sugar. To be honest, I'm not a fan of sweets at all and I only have coffee a couple times per week. Slim & Sassy is all I need for a creative and energizing boost! I like to mix one drop of Slim & Sassy with 1 drop Elevation essential oil blend and rub it on my chest and inhale through my hands. Now THAT'S what I'm talking about :p
In my diffuser in the morning: This awakening blend is perfect for the morning. After I put a couple drops in my pitcher of water in the morning, I put some in the diffuser as well. This is a great move because it helps me from climbing back into bed. Once I drink my Slim & Sassy water and then inhale it through my diffuser – I AM AWAKE!
On my body: I mix my own skin-tightening body moisturizer with fractionated coconut oil and Slim & Sassy. This is something I like to do in the evening after a nice dry brush session or on a rainy weekend when I have the opportunity to stay inside most of the day and relax. >> Please do not go out in the sun after putting this on your body!<< 
If you're wondering what everyone is wondering, WHERE CAN I GET SLIM & SASSY?
I really got asked this question so many times, and I wanted to make it super simple to tell a lot of people at once – so I wrote a blog about it. Here's how to place a one-time order or join and save 25% off forever.