Get a motivational reset & sweaty workout every day for 14 days to push through the challenges & have major breakthroughs in your life!
Give it 2 weeks…you'll be AH-mazed and feel refreshed.
Want some extra sweaty workouts to get your booty back in gear? (Let's be honest, sometimes we need that)
Here's a screenshot of what the guide looks like. You can see that the first workout is (my personal fav! :p) Legs & Cardio #burnbabyburn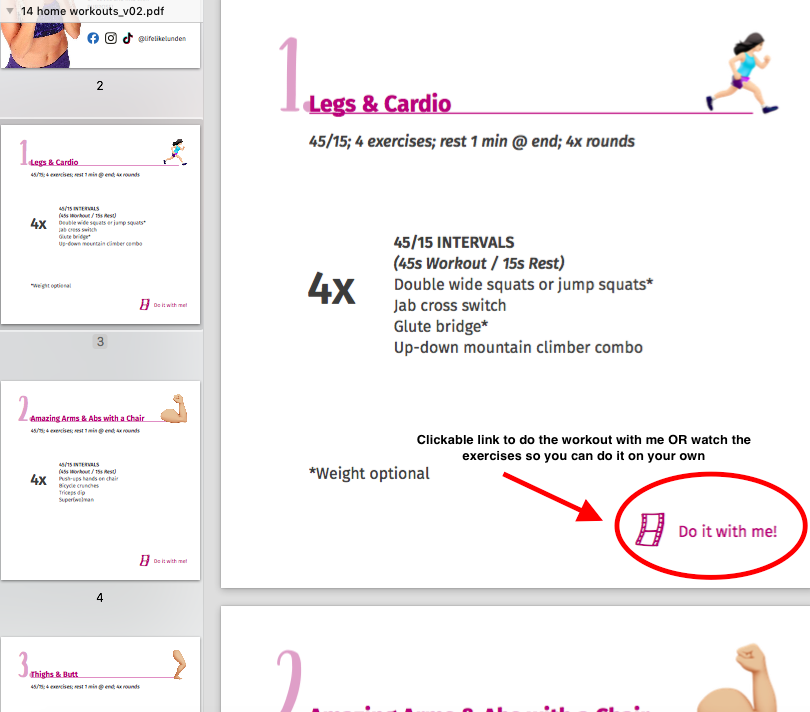 Each home workout video packs a powerful & sweaty punch made for ALL FITNESS LEVELS. These are not your average workouts, they are motivational and will inspire you to persevere and hep you really understand the power that moving your physical body has on your emotions and your vibe!
Each 'WE ARE STRONG' workout includes…
10-15 minutes of a motivational boost & mindset work at the beginning to keep you focused on your goals and ready to rock your workout
20 – 45 minute workout (mainly bodyweight, some require cans, a pillow or a chair)
Option to do this workout on your own by following the exercises in the guide OR do it with me using the real-time video (link included with every single workout)