I had the absolute privilege and honor to go to Todi, Italy last weekend for Appy Days. They invited our Runtastic VP of Marketing (my boyfriend),  Italian Marketing/PR Manager and myself for this convention and asked me to teach a fitness class in the main square. I thought I would be giving the town of Todi something, but it turns out I was just as impacted, if not more, by the amazing interaction I had with the people who took my class.
My flight was from Vienna to Rome and everything went smoothly and was on time. When I arrived in Rome, my driver was there to pick me up but we also had to wait for another passenger, being driven to the same convention, whose flight was a couple hours late. I waited in the airport for hours, worked on my computer and tried to relax after an exhausting day of travel. Once the other passenger arrived, we got in the car to go home and hit major traffic. I had flashbacks of when I lived in Southern California and got on the freeway during rush hour. The traffic set our already 2 hour drive back about 45 minutes. What can ya do….? Sh*t happens.
I got to my hotel, checked in and then walked to meet my boyfriend and colleague at this Pizzeria they were at. It was a 20 minute walk UP HILL…and when I say uphill, I 100% mean it. I remember walking up the hill, looking over to my left and seeing (in the dark) so much space and thinking to myself– I bet that looks soooo gorgeous in the light.
Turns out I was right, the next morning was completely gorgeous, sunshine, green, absolutely spectacular. I knew this trip was going to be a good one.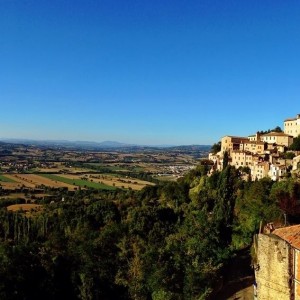 Since the convention was mostly in Italian, my boyfriend & I did not attend any classes or listen to any speakers. Yes, I did take 3 years of Italian in college but didn't retain enough to really understand what was happening.  So I spent a lot of the first day walking around, taking pictures and admiring the stunning scenery. I kept getting goose bumps thinking about teaching a fitness class in Italy. Would they understand me? Would enough people come to workout?
So, I guess I should back up a bit and let you know that Thursday morning (before I left on Friday) I woke up with a sore throat and very bad headache. The same thing happened on Saturday. I was really pushing my body to the max at work, at the gym and training for the Verona Half Marathon. I knew I had to push through this weekend because something great was going to happen…
…And it did. So many people turned out to my fitness class. It didn't matter if anyone spoke English, Italian or ANYTHING. There were kids, adults, teenagers and tons of people from the community.
I was so excited, it was the best feeling ever! I have taught Lumba (Lunden's version of Zumba) to kids and parents in Mexico and this was the same feeling. FITNESS KNOWS NO LANGUAGE. Who cares if I couldn't communicate with them by talking, all I had to do was move and demonstrate the exercises and everyone could follow along. We all broke a sweat, we all were SMILING and I honestly felt one with my purpose in life. All of these pics I got from Twitter and Instagram under #TodiAppyDays! These aren't my pictures, but I am sure those who took them don't mind me using them 🙂
I moved to Austria in February to be closer to my boyfriend and to work closer with the team at Runtastic. There are days when I miss my family so much I just can't even remember why I moved in the first place. But after being with all of these people, I realized this is the most fulfilling thing in life: Getting people to move and smile. I was, and still am, so honored to be able to bring the Runtastic lifestyle and message in my own way to these people. Thanks again everyone at Todi Appy Days for this opportunity and Runtastic for the endless opportunities it brings me everyday!