Last weekend I went to Budapest with my boyfriend as we continue on with our New Year's Resolution to visit one new place per month. I am so excited to tell you all about it and, of course, give you an awesome 7 minute workout that I did while I was there. I love traveling, but that usually entails a lot of really great food – so my rules for traveling are:
-Walk a lot
-Drink a lot of water
-Do at least one run around the city I am visiting
-Come up with a new & quick workout to do at the hotel (thus this 7 minute workout was born)
So, we arrived on Friday morning and it took us around 45 minutes to find parking because the streets were closed due to the Red Bull Air & Car Show. But, I can't complain because it was a beautiful day and some VIP Tickets to watch the planes fly over a gorgeous scenery is a blessing in itself.
There were so many cool planes & they fly so beautifully and freakin' LOW! I wish I had more pics of all the planes, but they just came out of nowhere and it wasn't always easy to get perfect photos. As you can see from the photo, there were tons of people in the city (hence why it was nearly impossible to find a parking spot).
Afterwards we checked into our room at the Carlton Hotel. Overall it was a great hotel, great breakfast and nice rooms. The only "problem" was the wifi had a really horrible connection and so it made browsing on TripAdvisor for good restaurants & stuff nearly impossible. Oh well, we managed. I just wouldn't recommend staying here if you have a lot of work to get done & need wifi.
We left the air show around 3pm and walked around to the Buda Castle & Fisherman's Bastion. We definitely put over 25,000 steps on our Runtastic Orbit's that day.
Here is our view from the Buda Castle, you can see the Parliament Building in the background – amazing!
These two pics are from the Fisherman's Bastion.  Can you believe my view? This place was called the Panoramic Cafe…um DUH!
That first night we ate at a REALLY good Italian restaurant called Mama Trattoria and had amazing pizza and wine. I would highly recommend you go to this restaurant if you are ever in Budapest…I want to go back for the pizza LOL. No, but that definitely made the trip a lot better.
Saturday morning we woke up and that's when I did the 7 minute workout. Let's call it the 7 minute workout for travelers. And, the funny thing was, our hotel room was really small and my boyfriend was doing a different workout so I did this workout on the bed & it was REALLY intense because of the instability on the bed. Whatever, I did it anyway. In fact, I did the workout 3x so it was actually a 21 minute workout, but I was dripping sweat after 7 minutes.
7 Minute Workout (perfect for travelers)
Perform each exercise for 50 seconds then rest for 10 seconds
-Burpee + 3 punches
-Jump lunges
-Push ups
-Inclined glute bridge with feet on the headboard
-V-ups
-Jump squat
-Up downs
On Saturday it was raining a lot, so we just jumped on the hop-on, hop-off bus and road around the city a bit and got a little history lesson. I feel like these buses are always a good deal because it takes you off your feet and bit and helps you decide where you want to go next.
Once the rain stopped, we hopped off the bus at the gorgeous Parliament Building. Of course, I had to stop and do some yoga – dancers pose is my favorite!
This building is freakin' HUGE! But honestly, it looks so much more beautiful from the view from above. It's impossible to see it in all of it's glory from this close!
In the late afternoon, after we were pretty tired from walking so much — we decided to "hike" up to the Gellert Hill & Statue. I was feeling SO tired, I didn't feel like going but I am SO  GLAD that I did. It was a quick and sweaty hike up and so beautiful at the top!!! There were even a group of kids singing at the top – super cute 🙂
This is the statue at the top! You can see it from the street and we actually kept asking ourselves "What is that?"
Sunday morning, it wasn't raining so we decided to go for a run before we headed back to Austria. We did a 5 around the bridges. I am wearing this shirt in honor of one of my best friends, Matthew Paglino, who passed away last year shortly after I moved to Austria. I bring it with me often on my travels- it makes me feel like he's with me.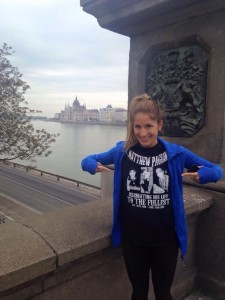 Overall it was a great trip! I enjoyed myself so much and it was so beautiful 🙂 I would definitely go back to Budapest & recommend it to everyone considering heading to Hungary.
Hope you enjoyed this travel & workout post – until next time!